Saag – Punjabi Spinach Simmer Sauce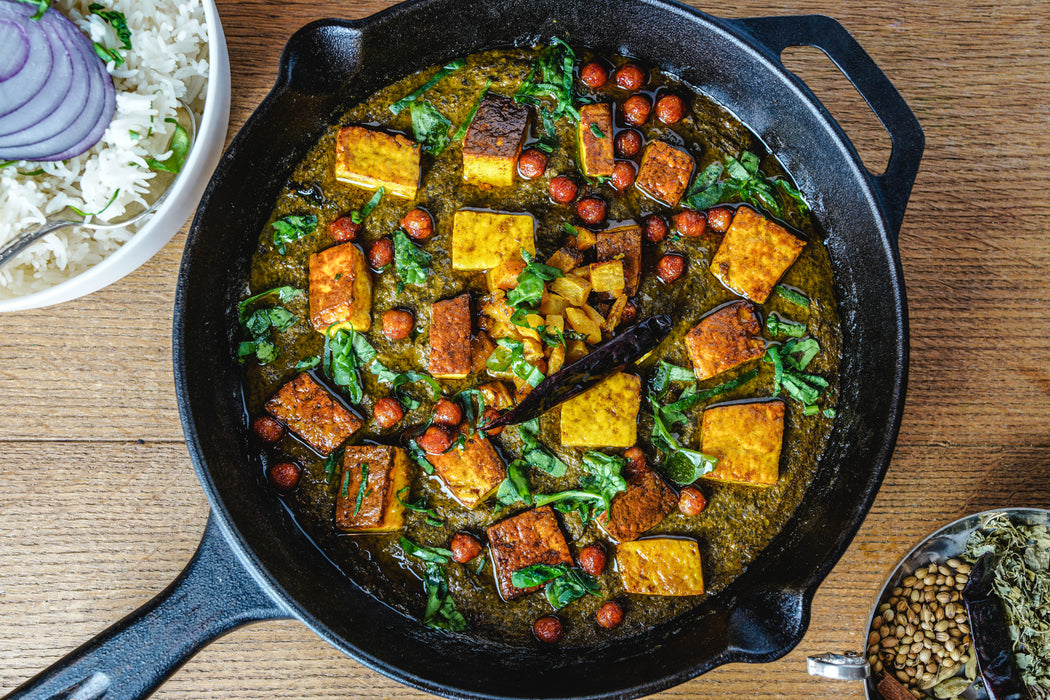 Punjabi Spinach Simmer Sauce
Channel your wanderlust for an Indian culinary adventure with Mumbai to Maine's Signature Simmer Sauces. These thick premium sauces are handcrafted in small batches based on my family's heritage recipes, rooted in authentic regional flavor profiles, infused with premium spice blends, no preservatives for an all-natural, homestyle Indian meal within minutes.
Saag is the Indian word for leafy greens. Hailing from the North Indian state of Punjab, this hearty, vegetarian sauce is loaded with spinach, broccoli, aromatic and healing spices like Fenugreek and Garam Masala with a touch of cream . It's often the go-to dish for the farmer because its packed with nutrients to sustain them for a long and hard day's work in the fields.
You can put a 100% vegetarian spin on this with cauliflower, chickpeas, butternut squash, sweet potatoes and paneer (Indian cheese) or add tender morsels of boneless lamb to elevate this thick gravy to another level of de-lish!
HOW TO USE:
Sear Chicken, Meat, Vegetables in 3 tbsps ghee until cooked. Simply add the sauce, *stir well, simmer on low for 10 minutes, add salt to taste. *This sauce is luscious and thick, if you would like to thin it out, use either 1 cup of chicken or vegetable stock. Serve hot with Basmati rice and buttered naan.
Net weight: 16oz.
(Serves 4)
 Medium-Spicy
All natural. Made with Ghee, Non-GMO ingredients.
INGREDIENTS: Spinach, Organic Vegetable Stock (vegetables, and vegetable juice concentrate [carrots, celery, onion, tomato], salt, soy sauce (water, soybeans, salt, alcohol), cane sugar, maltodextrin, yeast extract, potato starch, onion powder, garlic powder, spice), Fresh Onions, Broccoli, Concentrated Lime Juice (lime juice concentrate, sodium benzoate), Cream, Organic Tomato Paste (tomato paste, salt), Garlic, Grapeseed Oil, Ginger Paste (ginger, dextrose, glycerin, fructose, sea salt, ascorbic acid, xanthan gum, citric acid), Sugar, Ghee (cow's milk), Fresh Cilantro, Fresh Green Chilis, Turmeric, Spices, Salt, Citric Acid, Xanthan Gum.
CONTAINS: Milk, Tree Nuts, Soy